Resources for editors, designers, and instructors
Editors
If . . .
You are new to book editing
You are interested in moving from your current field into book editing
Your experience is confined to just one role but you would like to expand your offerings
. . . and would like to learn more about the field, some of the resources on this site may be of use.
In no particular order . . .
Review the other pages in the Resources section of this website. Also browse my old, archived blog.
I've done a number of webinars and conference sessions on working with self-publishing authors. If you belong to an editors' organization, check their store. The latest (read: best) version is the one I did for Communication Central's 2021 Be a Better Freelancer® conference, available from NAIWE.
The book production flowchart I offer to clients in exchange for filling out a project questionnaire is a distillation of the webinar material. It is available to you as well. It will help you contextualize your role in the overall workflow. I'll send you  an 8½″ × 11″ PDF free in exchange for completing the form below. A high-resolution 18″ × 24″ poster is available at andslash.com. Or you can squint at a low-res image here for free. (Click to enlarge.)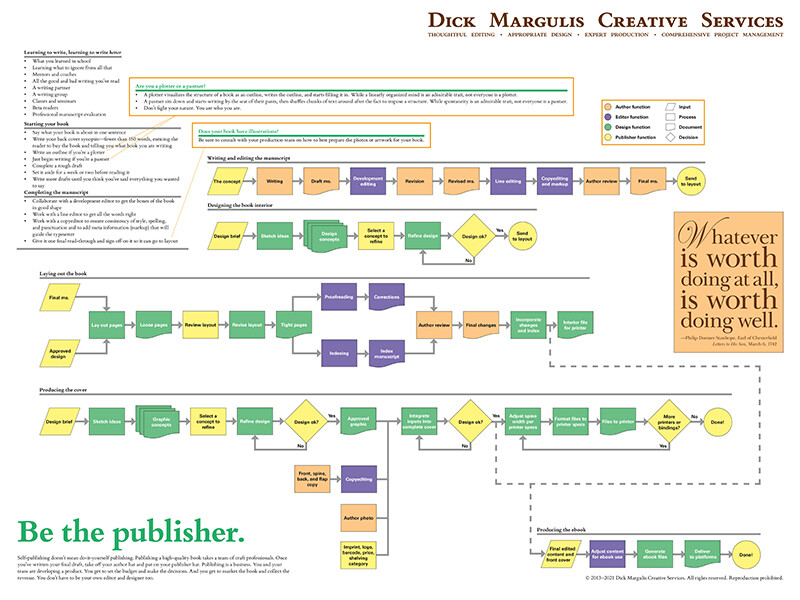 If you are new to working with individual authors, you will want to have a good contract. Lawyer and fellow editor Karin Cather and I wrote a small book, The Paper It's Written On: Defining your relationship with an editing client, that you will find helpful. You can order the print book or ebook from Amazon.
Designers
If you are an experienced designer, perhaps even an experienced cover designer, but not an experienced book designer, then all of the items listed above for editors will also be of use to you, as will the blog post on judging a book.
In addition, I did a conference session for NAIWE that was a live demo of using InDesign for a book. Warning: it was my first attempt at a live demo on Zoom, and it's pretty basic, so don't spend the money if you don't think you need it. I've also done conference sessions on Book Typography 101, but I don't think any of those were recorded. I'll update this page if I do another one.
Meanwhile, if you are serious about learning the craft and have at least explored the above resources, the Typesetting and Book Typography Facebook group is a good place to hang out with other professionals.
Publishing faculty
If you teach a course related to publishing, contact me about discount bulk purchases of The Paper It's Written On: Defining your relationship with an editing client; printed wall posters of the "Be the publisher" flowchart (or a redistribution license for the PDF version); or a guest lecturer opportunity.